The quick and dirty low-down after 1. FC Köln's 1-2 victory at Schalke 04.
Finally!
Saturday's victory ended a three-match losing streak for the Billy Goats, lifting the club from twelfth to tenth place with 18 points. Paderborn's point in Wolfsburg means Köln drops to eleventh for the brief period before match day 16 begins Tuesday, but considering the fear the club was about to slide into the relegation zone for winter break, nobody is complaining about that right now.
The panic on Planet Effzeh has temporarily been shelved. An away win at a Schalke was fairly unexpected considering Köln's recent results, but also because Schalke had been hot. The Royal Blues had just secured a trip to the knockout stage of Champions League and was riding a three-match winning streak of their own, with the offense having come to life with hat tricks in consecutive weeks from Klaas-Jan Hutelaar and Erik Maxim Choupo-Moting.
Not to mention that it had been over 21 years since Köln had won in Gelsenkirchen. Current Schalke sporting director Horst Heldt was a midfielder for the Billy Goats in that late summer match in 1993. The game-winning goal in that match was tallied by a defender named Patrick Weiser, who's son Mitchell would have likely been conceived earlier that summer.
Mitchell Weiser, of course, is the promising former Effzeh youth prospect who lost his way and wandered off to Bayern for a shot at fame and fortune and now mostly plays in the Regionalliga if at all.
Anyhow, there are plenty of ways to frame the historic piece of Saturday's win, but none of it will be as relevant right now as the turnaround in how we're looking at the end of the Hinrunde and how it will set the club up for defending its spot in the Bundesliga for next season.
Buy stock in YG31
After spending most of the early days of his first Bundesliga season as a spectator, you had to wonder whether Yannick Gerhardt was not regretting his decision to not move to SL Benfica this summer.
The 20-year-old midfielder, who also would have been in utero the last time his current club had won a Bundesliga match at Schalke, made his second consecutive start after compiling a bit more than two hours worth of playing time in five appearances the first thirteen match days. This time, though, the kid who usually plays more a defensive role in midfield, was slotted as the offensive  midfielder.
And the kid did not disappoint.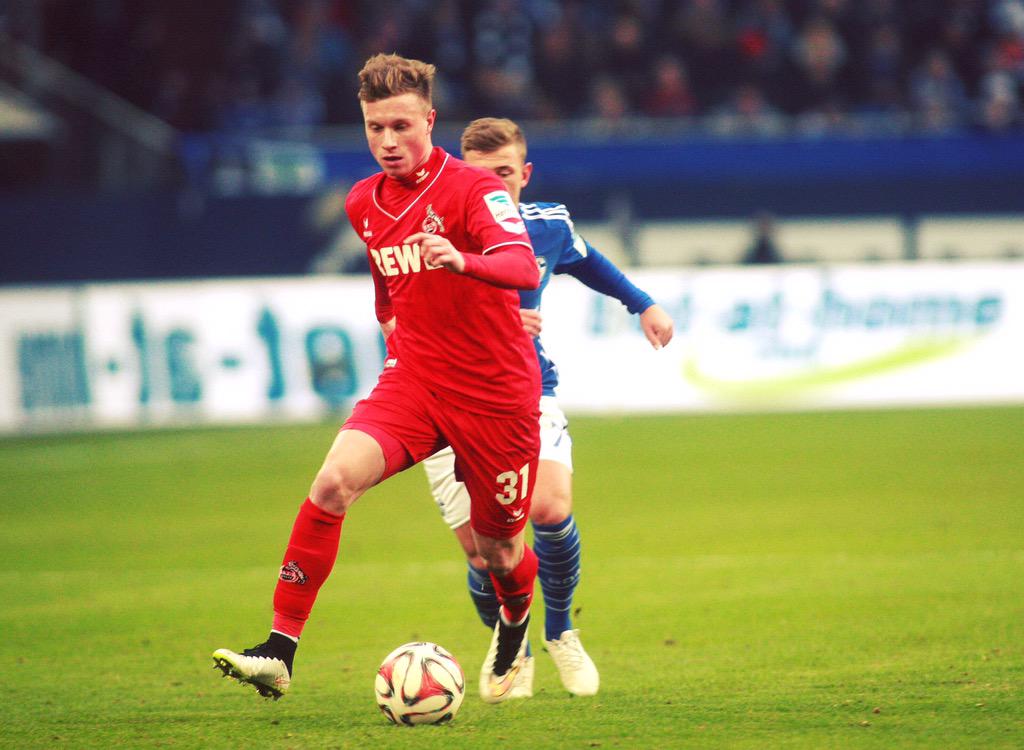 While the entire club looked to be on their back heels with Schalke pressing forward, Gerhardt was the lone man in red visibly winning his battles on a consistent basis. With almost nothing coming from the flanks, it was Gerhardt who made the pass into the middle for Anthony Ujah's goal to give the visitors the 0:1 early in the second half.
The flexibility Gerhardt has shown the last two weeks in being effective in differing roles is a huge win for Peter Stöger and crew, especially until some of the other offensive purchases from the summer show the needed promise.
Sell! Sell! SELL!
First, Svento was a complete defensive liability. Maybe he figured with Gerhardt, Vogt, and Lehmann all in the midfield as well, he was free to roam forward without too much fear of consequence. The end result, though, was that Pawel Olkowski was left on an island, while Choupo-Moting and Atsuto Uchida had a field day out there.
Ultimately, Schalke couldn't make Köln pay for it, but that doesn't really make it okay. It would have seemed a worth exchange had Svento been causing problems on the other end, but the one time he was dangerous, it had more to do with a terrific pass from Anthony Ujah. Svento got alone time with Ralf Fährmann, but the Schalke keeper got enough of Svento's minimalist effort to prevent the goal.
Nobody is going to say Daniel Halfar had been playing spectacularly on that side, but Svento has shown little since his first appearance to convince that he's got the job for the long term. Don't be too surprised if Halfar gets the start at home against Mainz.
Match Ball
Who else?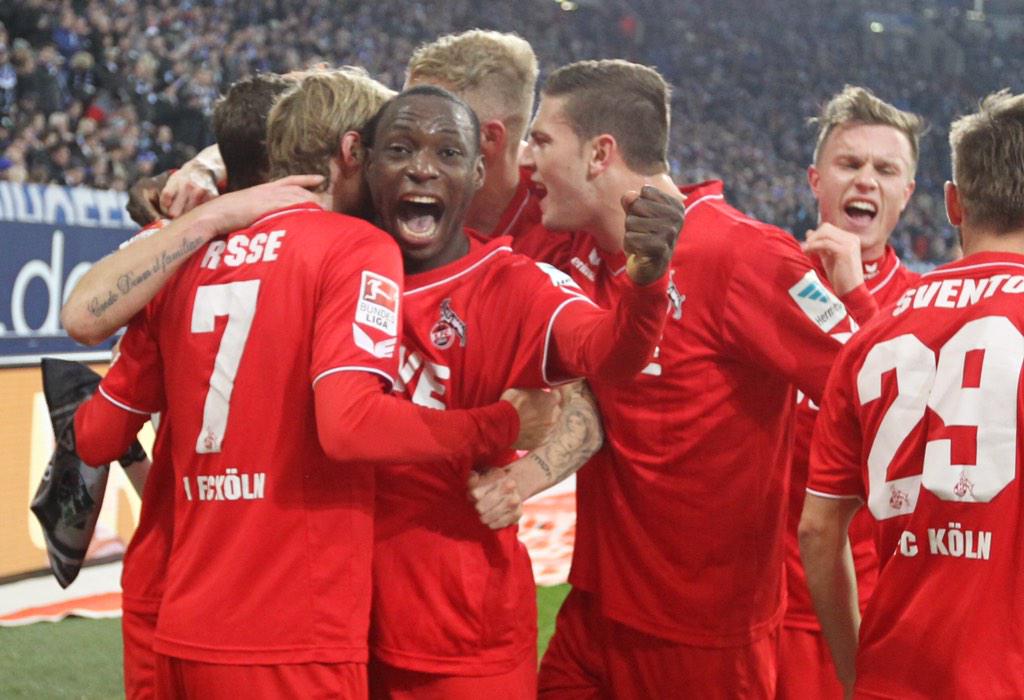 UUUUUUJJJJJJAAAAAAAAAAAAAAAHHHHHHHHHHHHH!!!!!!
Yep. He scored the goal, but that's not all.
You had the dreamy pass to Svento that maybe should have resulted in a goal.
And our Kölsche Tönn had another chance with three Schalkers chasing him from behind, but it didn't quite come together in the end.
Ujah was simply far too much for the weary legs of the Schalke defenders to handle. He was a dominant force when the Effzeh desperately needed one. It seems Stöger keeps hoping to find a different or additional answer to the offensive-production concerns, but it always comes back to Ujah, and on Saturday he showed why.
Next?
The 2014 home finale comes Tuesday with FSV Mainz paying a visit. As dire as things seemed for Köln the last month, Mainz has not won a match in nearly two months and have just the one victory in nearly three months. A strong season start had Mainz playing near the top of the table, but the FSV have slowly been dropping down the table, with light brakes applied on their way down building their league-high draw total of eight.
Like Köln, Mainz is a better away team this year than they've been at home, which is a bad match-up for Köln's home form, which is kept from being the league's worst only by Stuttgart. We'll have to like the chances of getting just the second home victory of the season as a nice Christmas/going-away present heading into the break, but, like everything else, it won't come easily.
That said, a win would be huge in many ways for the FC. Three points would raise the first-leg total to 21, over half the mystical 40 assumed to be the number needed to guarantee against relegation. In the short term, it would also finally erase any chance of dropping into the relegation zone for the winter break, which many thought was a near certainty a few days ago, looking at road matches at Schalke and Wolfsburg in addition to the Mainz visit. Now, those same folks are likely thinking a win is well within reach Tuesday.
Mainz came into the season as a Europa League participant and, with Bayern their visitor in the final match of 2014, will be desperate to end their winless stretch before taking on that Sisyphian task.
Latest posts by Randall Hauk (see all)