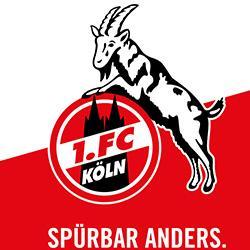 Spürbar Anders.
It would seem that our club has a new motto, which you can see displayed below the familiar club crest in the avatars used on the official Facebook and Twitter pages.
As anyone who has tried to learn a second language knows, not everything has a perfect translation from one language to the other. This phrase feels a bit like that. "Appreciably different" may be about as good as I can hope to get without further guidance, but of all the many various word combinations I tried, that feels right.
There may be yet come some official delineation of the phrase, how it's going to be used in marketing, and what the club hopes it represents. For now, you're left to watch a four-minute-plus video that was launched with the same title and let the synapses in your brains and the goosebumps on your forearms remind you precisely what "spürbar anders" means to you, which is probably the entire point.
Easy enough for some of us, but maybe less so for relative newcomers.
So, despite the club's encouragement to "not search for words," let's take a walk through the video together, shall we?
0:01 – We open on the Geißbockheim (Billy Goat Home), which is the iconic home of the club itself and where the team trains. There is a cat on the training green, any significance of which is completely lost on me. Remember, I'm relatively new, too, and live really, really far away.
voiceover: "Good morning, Cologne.  I hope you dreamt of three points."
0:04 – Cut to a shot of Kevin McKenna sending a Rut un Wiess ('red and white,' of course) flag up the pole . Also known as Kanadische Eiche (Canadian Oak), McKenna logged 153 matches with the Effzeh before retiring at the end of the 2013-14 season. Last I heard, McKenna was doing an internship as a coach with the U19 side, but while he can be seen in the team photo on the club website, his name is not listed as part of the coaching staff, so I have no idea what his actual status is.
voiceover: "Today is a Bundesliga match day. Today is Effzeh (just in case you're really knew, "FC" in the local dialect) day."
0:06 – The next cut is a quick pan of a street sign announcing we are at Franz-Kremer-Allee, the street on which the Geißbockheim is located. Kremer was the first-ever president of the 1. FC Köln, which was founded by the 1948 merging of Kremer's club Kölner BC 1901 with SpVgg Sülz 07. If you've ever seen the numbers o1/07 around the club, that's where they originate.
Franz-Kremer-Stadion is home to the club's women's team home matches, as well as those of the U21, U19, and U17 sides, seating about 5,500 and located adjacent to both the Effzeh training pitch and Müngersdorf (RheinEnergieStadion).
0:09 – I don't need to explain that, do I?
0:10 – They call it RheinEnergie, but I say Müngersdorf. Either way, you're looking at the beautiful green turf and red seats of our home field.
The man you will see walking across the grass and then trimming a few blades in a close-up is the club's greenskeeper, Christoph Seiler. I didn't know that until moments before typing it, but I researched it so Mr. Seiler gets his proper due because he deserves it. He does a hell of a job, though I doubt he trims the grass by hand. If I'm wrong, give that man a raise!
0:19 – This is another one I had to research and cannot be 100% that I'm correct, but I believe this scene is before the Severinstor, which would be exactly what it looks like: a city gate from the middle ages in a city that had such things way back then because THAT is how far back this city's history can reach.  Count it among the many things I was too young to appreciate having had the opportunity to go see when I was there.
The man before the gate is distributing "Special Edition" tabloids apparently celebrating the Effzeh's second division title last season. The banner across the top reads, "All of Cologne stands behind the FC!"
0:25 – A shot of a typical Effzeh-crazy family at the breakfast table. It looks like Dad is reading some sort of "history of FC Köln" book, because I think that's a fairly famous image of legendary keeper Harald "Toni" Schumacher . . . I think.
It would appear that maybe three generations of women are using coffee mugs and yogurt cups to argue tactics. All I really hear/understand over the music is Doppel-Sechs (double six). 
The shot of Dad rolling his eyes at the tactics talk reveals that the book is, in fact, Mit dem Geißbock auf dem Brust (With the Billy Goat on the Chest). Well, what it reveals is that it's a big book with a white front cover, red binding, and an array of photos on the back cover, which is what you'll find when searching for online images of that tome.
0:33 – Hauptbahnhof (main train station) Köln.
I've been there. I actually briefly slept on some steps inside the station after staying up far too late to watch Super Bowl XXVII (Dallas 30, Buffalo 13) and missing the last train back to Wuppertal. Also saw Tool perform at a venue around the corner from the station. The famous cathedral is RIGHT THERE!
0:39 – As much as I am excited for a return visit to the city and attendance at a match, I won't be kissing the ground after emerging from the train station.
At least that's what I believe right now.
0:40 – The Superstar: Hennes. If you can't be down with the king of all mascots, I don't know what to tell you.
Our beloved mascot, who now has a permanent home at the Kölner Zoo, is named for Hennes Weisweiler, who is not only an icon among German football coaches, but also was the man at the helm for the Effzeh's 1978 Bundesliga title and a pair of DFB Cup championships (1977 & 78).
Hennes' handler, who you may recognize as the man trying to hold Hennes when Anthony Ujah comes over to visit on occasion, is Ingo Reipka.
The cheerleaders, though . . . yeah. Fine at a high school football game. Not sure I'm loving that at my pro Fußball matches. It just feels strange, but they are out there working their thing and are part of the show, so there they are.
0:45 – The mighty Rhein (Rhine) river with the incredibly visible TV tower "Colonius" right there next to it.
If you get the idea that the club strongly identifies with the city and its people, you're right! It's not always just "Kölle" in the local dialekt, but also "Kölle am Rhing" (Cologne on the Rhine).
0:47 – You have to love this shot at rival city Düsseldorf.
Stereo-typically, you have a very fashion-conscious man representing Düsseldorf, which is further emphasized by his drinking Altbier and impatiently beckoning to someone in the bar to be of service to him. By contrast, you have your "average joe" type next to him, patiently enjoying a Kölsch and eventually annoyed enough by his barstool neighbor to move to action with a very effective counter-strike.
Thin-ass Fortuna defense leads to a score, celebrated by a sip of something much more palatable than what's on offer up the road.
0:56 – If it truly is match day, then you don your red and white and head to the stadium.
1:07 – The club is a family affair, spanning generations, as it should be. The contrast here of the elder man wearing the jersey of young Yannick Gerhardt while the young boy is sporting Heinz "Flocke" Flohe's #8 is clearly intentional.
Flohe is another Effzeh legend, largely from his contributions to those title winning teams coached by Weisweiler. Flohe passed in 2013, and the club memorialized him with a statue outside the stadium just recently. Add that to the list of things to see when you visit Köln.
1:10 – Okay, I have to admit that I only think this is Yuya Osako. I don't think it looks enough like the way I picture him from watching matches, but that it also looks much less like Kazuki Nagasawa and that the odds of it not being one of the two Japanese players on the team are extremely low.
So, let's call him Osako, conceding that this could be a total "they all look the same" moment, but completely innocently, I swear.
Osako is clearly taking in some of the history of his relatively new club, looking at a photo of the aforementioned Schumacher celebrating . . . maybe the 1983 Cup win, I can't nail it down . . .
The way the scene is acted out should tell you that the man who arrives to raise a glass of the good stuff is none other than "Tünn" himself. Osako tries to make the face that any of us would if approached by the man and legend while admiring his photo . . . especially if he brought us a Kölsch.
1:23 – Hopefully someone will rectify this for me, but I cannot find the name of this man. I assume he's an equiment manager of some sort and is deserving of being named, but I'm at a dead end.
Kölnisch Wasser (Cologne water) . . .  what we now commonly refer to as "cologne" originated . . . well, you had to suspect that was where the name came from, didn't you?
I don't believe our unnamed hero is actually rubbing cologne on those boots, but it is a reminder of yet another piece of the city's legacy and, hence, importance to the club.
1:29 – I suppose one can be pure Effzeh and still have friends who are for Schalke and Mönchengladbach.
1:41 – Back at the Dom (Cathedral) from which the city nickname of Domstadt (Cathedral City) originates. It is also the silhouetted building in the circle below Hennes in the club crest.
All you have to do is turn left coming out of the train station and you'll quickly be in awe. It's an amazing structure.
1:57 through 2:23 – Self-explanatory
2:24 through 3:54 – Mostly self-explanatory. . .
You start to hear an ethereal voicing of the melody of the club hymn over images of players ostensibly preparing for match day (note the relatively spartan locker room accommodations compared to those provided American athletes).
I've already done a translation of the Hymn on this site, if you need it.
The players emerge to the pitch to those sounds and scenes at home games. Even watching on a small computer screen or television, it can be quite striking. I'd be lying if I said seeing that in my early Bundesliga-watching days played no role in my finding my club.
But, here you see everything coming together in its full culmination.
3:55 – "Do not look for words."
3:58 – "Experience the indescribeable"
4:00 to end – And that really is how it all begins.
Latest posts by Randall Hauk (see all)