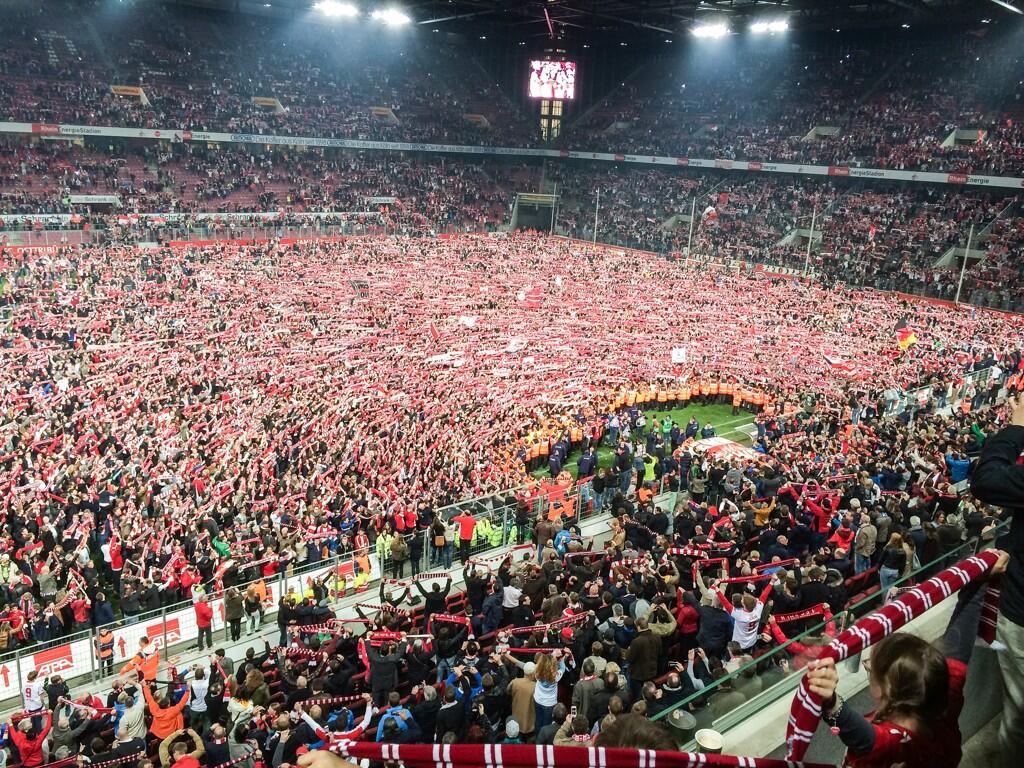 Sehr geehrter Herr Stephan Grühsmen,
I awoke this morning to laughter. It seems you said something incredibly humorous that had the entire city of Köln in stitches. Apparently you claimed that the club for which you serve as a board member — VfL Wolfsburg — has more tradition than 1. FC Köln, with your primary supporting argument being that the VfL was founded three years before the FC was born of a merger betwen existing clubs.
The entire premise is so completely absurd that is apparently inspired boisterous laughter that everyone could hear . . . even all the way over here in Seattle, Washington.
That's in the United States of America . . . on the west coast . . .
Certainly, if your sole criterea for measuring the amount of "tradition" in a club is the year of foundation, then you certainly have a point. The dates are known and completely not in question.
But, surely, the fact that you feel the need to point to such facts as evidence of your club's bona fides means you are somewhat aware that, in general, that is not quite what football fans are referencing when they lay claim to Traditionsverein or charge clubs like yours as "NOT a Traditionsverein".
I would tell you to see also Bayer Leverkusen and 1899 Hoffenheim, but I think we both know that you are well aware who your peers are as outsiders to the "traditional club" class.
There are some people in Hamburg who just walked away from the Hamburger SV over feeling like the tradition was being squeezed from the club. Those people and founded a club called HFC Falke that I would argue can be be said to have more of the Traditionsverein in it than does yours.
So, if it's not simply a matter of when a club was founded, how can we further define qualifications?
Well, it's nebulous, and I think that your trying to slap dates on the table would inform that you realize it is very nebulous, making any tangible facts very alluring to those who might not be as invested in making the distinction.
From an (admittedly quite far) outsider's point of view, the dividing line would be drawn between clubs which continue to adapt to the concept of modern football while retaining the long-standing traditions of the club-football system.
I know it's somewhat frowned-upon to use the word you're trying to define within the definition itself, but I assure you it's intentional and is worth trying to comprehend why I would do that.
Some fans of German football, myself included, absolutely love the idea of the sports club. There is irresistible charm to the notion that these sports teams are part of an actual club, with membership and elections and all that comes with running an actual "club."
I will give you, though, that these clubs have all grown to be enormous businesses, which takes a bit of the clubbish feel out of the matter.
Even so, the charm of being able to invest in your football team only the money earned through club business and football business (which is part of the club business) remains. Were it that VfL Wolfsburg had risen to the top of the first division through growing club membership and smart football and business-related decision-making, I wouldn't be writing this, because nobody there would be trying to lay claim to Traditionsverein status.
But, as you (and Dietmar Hopp and Bayer Pharmaceutical) know, the easier route to football glory, especially in today's game, is to find a sugar daddy.
And Volkswagen is, indeed, your sugar daddy.
People who love the club system are not fond of the clubs propelled by outsider investment because it threatens so much of what we love about the Bundesliga. While many would point to the English Premier League as the biggest and best football league in the world, there is an increasing number who've grown very weary of skyrocketing ticket prices and relatively tame in-stadium atmosphere.
Those disenchanted with the league with which they grew up as football fans have been looking to Germany, drawn by the passionately vocal support and very strong on-pitch product. Even the most-staunch defenders of the English league as the world's best are left with half-hearted claims of "league depth" when faced with the failures of their clubs in European competition while Bundesliga sides are consistently surviving into the knockout stages . . . even one that has spent much of the domestic season in the relegation zone, as you may have heard . . .
I imagine you winced a little bit when I mention "vocal support," because we both know that the crowds at VfL Wolfsburg matches can be somewhat quiet, if they can be bothered to show up at all. With only 30,000 seats for people to come watch a relatively recent league champion and a strong contender for Europe the last few years, regular sell-outs should be a given.
They're not..
And, yes, I'm also going to bring up the embarrassing turnouts at your arena for DFB Cup matches. I know they're mid-week, and I know that even some traditional clubs struggle to get butts in seats for some of those matches, but your stadium has looked as if your fans were on punishment for those matches the last few years!
This — if any single thing can be the proper gauge for degree of Traditionsverein — is the key measure we should be considering here.
Frankly, even if you didn't have outside investors, yet were able to rise to greatness, then you wouldn't be much of a Traditionsverein if you can't then regularly sell 30,000 tickets with at least 50% again as many clamoring for investment in a stadium expansion.
Please do not pretend that you have not heard of the 30,000 who turned up at Tivoili Stadium over the weekend for the Alemannia Aachen match with Rot-Weiss Essen . . . in the Regionalliga (that's fourth division, folks!).
Please also do not pretend that, upon hearing of it, felt a tinge of jealousy knowing that no matter how much money Volkswagen pours into the VfL, it will simply never see that sort of passionate commitment to the club from its fan base, even while playing in Europe on a regular basis, much less down in the fourth division.
And that, right there, is the difference between your club and what everyone understands to define what is and is not a Traditionsverein. It's not any one thing, much less founding date.
If I may break out a bit of my impossibly awful Kölsch Sprache, it goes about "e jeföhl dat verbingk," or "a feeling that unites."
That feeling compels people to go to midweek cup matches, even if it means travelling to an away fourth- or fifth-division club's small park, to support their club.
That feeling raises the hairs on your arms when you hear the club anthem or the song played after a goal is scored, regardless of where you are.
That feeling means that your internet social network is loaded with "friends" and "followers" you maybe have never met (because you live thousands of miles from the damned stadium), but with whom you share a mutual understanding over something about which you feel passionately.
That feeling means that when someone says Traditionsverein, you know they're talking about clubs like yours, meaning you don't get defensive when the concept is raised, sending you into attempts to explain how yours qualifies, too.
You are free, of course, to call your club whatever you wish, but everyone can see and feel the difference, including yourself, so let's agree to not play dress-up again in such a manner, shall we?
I could probably go on in a dozen more directions about this, but you'll have to now excuse me, as there are pictures circulating of EffZeh players dressed for a club Karneval "session" which I simply have to see.
I'm not sure you'll understand.
Because "united" goes beyond the 90 minutes and financial agreements in some places.
Together, always strong . . .
Randall (the American Geissbock)
Latest posts by Randall Hauk (see all)