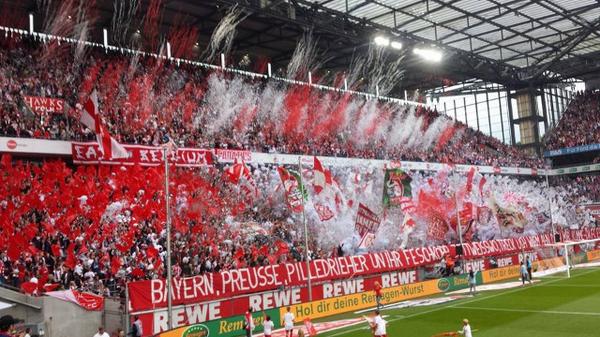 Can I just say something before we get to the business of what happened on Saturday?
Of course I can. It's my site!
I LOOOOOVE being in the Bundesliga.
My love affair with the 1. FC Köln definitely has roots in the 2011-12 season. I do remember being unhappy about seeing the club go down thanks to a home-pitch beating at the hands of FC Buy'em, but it wasn't really until I found myself obsessing over the summertime roster turnover and the hiring of Holger Stanislawski that I realized my heart had found its football club.
Hence, Saturday was truly my own debut as a fan of a Bundesliga side, rather than as a fan of the league with a club stuck in the second division.
Did I mention that I'm enjoying it?
I have now watched the match twice: once strictly from a fan-perspective live with some interruptions from children and once with a notepad and a more-analytical view. From the viewings, I've formed some opinions, which I'll disseminate here, of course.
Starting Eleven
Horn: Was never in question.
Brecko, Maroh, and Hector: Also, I think there was little doubt they'd be among the starters.
Wimmer: A pleasant surprise, for me, as I felt like signals were being sent that Mergim Mavraj would get the nod, maybe due to simply being more-experienced. With Kevin being picked this week for national duty for Austria, I'm really happy for him to have gotten this start and the honor back home.
Matzelinho and Matu: I think Lehmann somehow emerged as one of the more-reliable presences in the team. In fact, if there is a guy on the roster who might carry that leadership quality some say is missing from the team, Matze may be him. I was not a fan of his initially, but he has such a solid presence and professional demeanor, that I now just expect to see him all the time out there. I used to wonder whether he didn't benefit from a friendship with Stani, now I wonder whether Stöger hasn't helped him become a stud at the pivot and with his teammates.
Matu, though . . . well, he was one of my pre-fandom favorites at the club, which got me excited for him coming back to the club for the 2012-13 season, but then he saw playing time reduced and didn't always look solid when he did play. I assumed Yannick Gerhardt would be in the squad Saturday, but I suppose that he sometimes shows his youth would make a home Bundesliga debut perhaps too intimidating a situation. One thing for sure about Matuschyk is that he wasn't going to be awed by the moment. I'm guessing that factored.
Halfar and Risse: The duo with the potential to make the big impactx from match to match for the club. Halfar has been a treat since arriving from 1860 München. Risse too, but less-consistently in the second half of last season. When these two are flying down the flanks, things get very interesting for the club. Off the cuff, I wish Risse could take some of Halfar's confidence and Halfar some of Risse's passion. There's a lot of potential coming from the outside channels.
Osako: This was the big question, wasn't it? I suppose if Helmes were healthy, I'd somewhat have thought it would be he and Ujah together, though that's not necessarily a given, considering Stöger went with the double-six. Would he have gone more-offensive with Helmes? I don't see either going into that central/attacking midfield as Yuya did, but maybe. With Helmes out, though, this seemed like a perfectly reasonable insertion.
Ujah: Because you have to have Ujah.
HSV: I don't have a ton to say about their team. It's largely the same highly paid bunch of under-achievers who earned a relegation they did not receive from last year. No more Calhanoglu, which is a relief until the Leverkusen matches, and no Maxi Beister, who got that lucky-as-hell opening goal (Get well, Maxi.). Van der Vaart missed the cup match but was on the pitch Saturday. I'm struggling to see how this club is fundamentally different from last year's other than having had an extended training camp under Mirko Slomka.
Pre-Match
I always forget that Miso Brecko was once with HSV. I suppose that's because his move from Hamburg to Köln came well before I came from "only American sports" to "mostly just German football." It's largely immaterial to today's match, but is a bit of trivia, I suppose.
Aside from that, I got a kick out of seeing Toni Schumacher and Franz Beckenbauer stepping out from the Sky broadcasting area to take in the atmosphere of Müngersdorfer during the FC Hymne.
It is always a treat and definitely something that catches your eyes and ears as a neutral. Or, at least it did, and probably helped steer me in the right direction in my search for a club.
Rafael van der Vaart
I do not like this guy. I just do not.
I vaguely remember hearing some unsavory things about he and his ex-wife and he and a teammate's wife, and used that to build this image in my head of the guy as a super-villain, which is strange because on the pitch he otherwise seems like a completely normal and likeable dude.
But I do not like him.
So when he made a poor pass to nobody early in the match, I laughed. When he continually made a big deal of pointing to his thigh as if to explain he was not at 100%, I rolled my eyes at what I saw to be preemptive excuse-making.
Then, when Marcel Risse looked like he was ready to give him a beating late in the match, I was trying to think of a good way for Risse to deliver that beating without missing matches. Luckily, it all ended in just a yellow card, but without "Rafa" getting the comeuppance I am certain he deserves.
Peter Stöger's Ugly Sponsor Shirt
Yeah, I get it sponsors. You want your logos slapped all over the place, especially now with Bundesliga coverage.
But can't you do it better than this?! This is hideous.
The shirt itself might not be too bad, otherwise, but it's hard to tell with those logo boxes slapped asymmetrically as near the neckline as possible. Stöger doesn't seem like the type to care what he has to wear to the match, which is all the more reason he should get better treatment in the matter.
Fix this before the match in Stuttgart, bitte.
Along those same lines, Patrick Helmes was up in the stands watching the match while wearing what appeared to be a Members Only jacket, though likely made with more-expensive material. Someone get that guy a better coat, too.
First half goes to the visitors?
On first watch, it did seem like the match was tilted toward the HSV. I admit to thinking it at the time. When I read it in a match recap at Kicker, it didn't seem out of place to me.
Upon a second viewing, however, it wasn't as clear.
Yes, the Whoppers did have the possession edge and more shots, which plays into how the match looks, but when you watch the first half knowing all this, it doesn't look nearly as evident that there was an advantage. Technically, since neither team scored, there was no substantive advantage, as goals are all that count at the end of the day. Still . . .
Toward the end of the first half, a graphic showed that the HSV had outshot the Effzeh by an 11-4 margin. That sounds like dominance, does it not? Add to it a 60-40% edge in winning Zweikämpfe (duels, but I like the German word better and will keep using it, so learn it or piss off)  and a 54-46% possession advantage, and the stats make it look like the experienced Bundesliga side was having their way with the promoted side.
But, if you did NOT see the match at all, let me assure you these numbers are largely LIES! Well, the numbers aren't really lies, but they definitely lead to some big fat lies lead to the false tale of how things were rolling.
First, let's be clear about those eleven shots: It was either zero of the eleven or pretty close to zero that had a chance of actually scoring. The vast majority of the shots came from distance or were from action following a free kick with the ball coming near to target, but hardly what you'd call a threat where you involuntary go "OOOH!" from your seat, cringing at the goal you think is near to being scored.
Shots are always better than no shots, but if they're not well-targeted shots, they're just stat-compliling nothings. HSV had more chances overall, but there was a dearth of quality chances that kept things level. Do not read too much into statistics.
Foul 'em
Here's where it will be clear that I have no clue about the sport.
At some point, with all the shots coming from distance or off long free kicks, it occurred to me that the game plan might have involved hammering guys in possession if they were on our half of the pitch but near the center line. There was a long stretch of play where it seemed that every HSV possession in a 15-meter strip of  the pitch drew a hard challenge from an Effzeh player.
Now, if you're going to play aggressively in the defensive end, I suppose this is probably the safest spot from which to do it, relatively speaking, but would Stöger have put that into strategy?
I don't know, but it seemed to work. As the match wore on, it then seemed to me that the Whoppers would rather attempt to pass over or through the Effzeh defense, rather than get hammered while trying to carry the ball through it, only to get a long free kick, none of which resulted in much of substance.
Of course, this could also just be a case of confirmation bias. I had the idea and then interpreted everything after that to support the idea. Maybe this didn't happen at all!
This is what you get for letting an American blog about your sport, I suppose. (yeah, yeah Joe Flag-Waver, YOU are plenty soccer-savvy and were born here in the USA; I know!)
Lasogga without Calhanoglu and Beister . . .
Is simply not as effective as "Lasogga with Calhanoglu and Beister." Dude was around, but didn't really threaten any more than anyone else did. He had a big moment at the end of the first half when vdV headed an Ivo Ilicevic cross to him, but Lasogga didn't quite get a hold of it.
Five Minutes of Fury
The most-exhilarating action of the entire match came in a five-minute stretch near the beginning of the second half.
In the 48th minute, a dangerous-looking cross seemed destined to find Lasogga when Ilicevic lunged in front of the striker and headed the ball straight into Horn's arms.
A minute later, Ilicevic again was in the middle of the action, when he escaped the defensive efforts of Wimmer to break into the area from the left side. Rather than attempt at goal himself, he looked to slide the ball over to the opposite side for an on-rushing vdV, who had nothing but space around him. The problem was that the defense was collapsing around Ilicevic, which left him little room to pass, so the effort deflected harmlessly off Matzelinho.
On the other side of the pitch a few minutes after that, Daniel Halfar tried to go over the top of the defense for Anthony Ujah and succeeded in doing so with the striker having a step on the defense, but the semi-rushed header went straight to Rene Adler.
Three minutes later, Marcel Risse just plain took the ball away from the Valon Behrami, leaving the man with the golden skunk stripe on his head to pursue as Risse sprinted into the area with a bit of room to operate. Risse, much like Ilecivic earlier, then made an ill-advised decision to pass rather than shoot, but was unable get the ball to Ujah through the HSV defenders arriving to the scene. The pass deflected directly back to Risse, however, at which point Risse played it back to the late-arriving Yuya Osako. Osako's shot goes in the same category of the majority of HSV's first-half attempts: too high and too wide, by a good chunk.
Okay, so that all happened in something more like six or seven minutes, but it's more compelling to think it was compressed into five, isn't it? Either way, I'm not changing the header, so deal with it!
Mixed Reviews
I initially had pretty high marks reserved for Jonas Hector. Upon further review, I still think he had a fairly strong match, but now I understand why he had a slightly lower rating than what I thought he deserved. He made a few poor passes early, which could have been problematic were HSV clicking better at that point and without some solid help from Dominic Maroh and Lehmann.
Still, I have a little more faith in Hector making those runs on the outside channel than I do in Brecko. Every time I see Brecko deep in enemy territory, I brace myself for a counter down his flank. Fortunately, Risse is really good at keeping an eye on that area, because I think he helped keep things from developing on that side a few times.
Anthony Ujah, excepting the one big chance that probably should have played out differently, had little impact on the offensive end, which goes for pretty much everyone in red and white, but our beloved Nigeiran-Kölle was all over the place tracking back on defense. He made a lot of plays in supporting the defensive side of the team, to the point of it almost seeming absurd. I don't remember ever thinking of Ujah as THAT defensively responsible, but I was loving it. It reminded me of my favorite hockey player of all-time, Steve Yzerman, who came to Detroit as an offensive rock star, but developed into the essential two-way player. If Ujah's defensive skill sharpen, I could see him become deadly in a pressing system, stripping the ball coming out of the defensive end and creating more chances for himself.
Or just slowing any offensive efforts enough for everyone to drop into position. Either way.
Finally, Mr. Marcel Risse . . .  what am I to say? There were moments of "YES!" and some moments of "WHY?!" Risse remains among my favorites to watch, but I still want to see how it plays out when he is aggressive with is decision-making in the final third of the pitch. Sometimes, the man is a force of nature. Others, I wonder what is going on in his head. I hope his love for the club doesn't make him feel the need to be deferential, thinking that is what's best for the team. Sometimes, the best thing is to let it rip when you have an opening, which he later did when Brecko slipped him a well-timed pass. I want to see more of that.
Finally . . .
At the end of the day, the match looked largely like what I think you had to expect, considering these teams weren't separated by much by the end of last season.
But I don't care about HSV, so my takeaway is that the team again looked well-organized and highly motivated and completely ready for the task at hand: staying in the Bundesliga. I'm even more confident that Peter Stöger is the right leader for this team than I was last week, and I was gushing with praise for him last week. I'll hope to see the offense come out of its shell a little bit more next weekend, but this was a fine first effort at the increase in class.
Latest posts by Randall Hauk (see all)