"There is currently no reason to consider a transfer."
Thanks, Kevin. May I take it from here?
Hey, Schalke 04! Back to the fake mine player tunnel with you! Just because your dirty (though still valid for spending, of course) natural-gas funds in exchange for Christian Clemens, does not mean the 1. FC Köln is a natural resource for you to ravish whenever you please.
Leverkusen Pill Pimps? Your drug money is not welcome here. You know this, yet you're sneaking across the river to take a peek at our young Austrian stud center back? Have you no shame?
Tottenham Hotspur (that's a real club name?) and Everton? I suppose the fallacy that all footballers not currently playing in England dream of playing in England. It is a wildly popular league, and the salaries do seem ridiculously exaggerated, especially considering the relatively average performances of English clubs in European competitions. Even so, the recent trend seems to be that successful Bundesliga players who go to England find themselves unable to get into their team, and then return to Germany to continue as successful footballers.
Besides, who's trading this sort of fan support, as seen during a second-division season: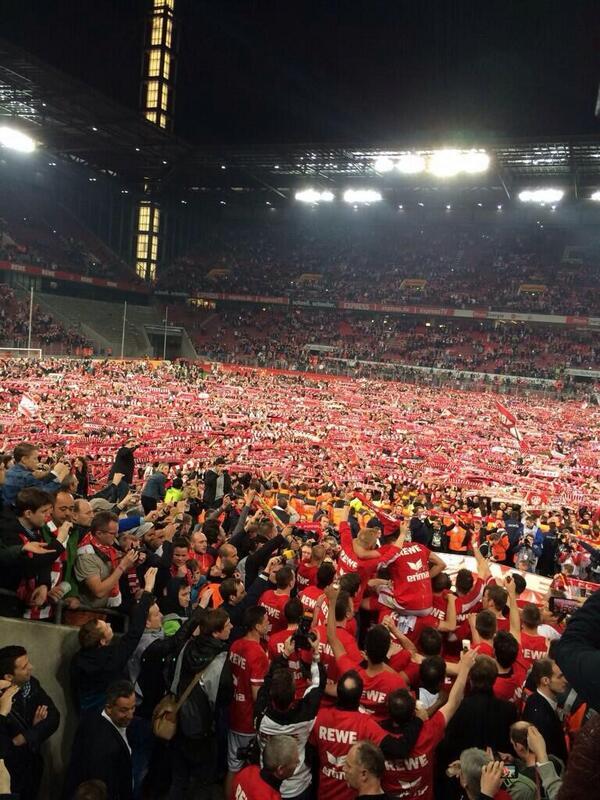 For this?
I'm sure there are plenty of players who would do that, for the right price, but right now young Kevin says he's not among them.
So . . . you can look, but you'd best not think about touching!
"I feel very comfortable in Köln," Wimmer told Köln Sport magazine in a recent interview, which can be read in their most recent issue, which is available HERE for free online reading. (It is in German, of course, so you'll need to be able to read auf Deutsch, but if you're capable, subscribe to the newsletter and get notified when each new issue is available.) "I have many in the team with whom I get along very well both on and off the pitch."
"City . . . club . . . it all fits!"
Translated for the rest of the world, Kevin is a Kölsche Jung. As long as he can progress in his career in Köln, he's prepared to stick around and help build something special in the Cathedral City. He's played every minute of every match since the club rejoined the Bundesliga, and the club is lingering in the middle of the table. Surely he wouldn't be too interested in the regression that would come with a step back into the second division. It's also likely that the Austrian national player aspires to play someday in the UEFA competitions, but that is undoubtedly a desire shared by everyone in the locker room, club offices, and spectator tribune.
All that said, if Wimmer continues to play as well as he has thus far on the bigger stage of Europe's best league (yeah, I said it. Whine away, EPL fans!), the offers may grow too big to be ignored. As important as a strong center back is to building a contending club, so too is giant piles of cash provided by clubs willing to overpay for talent developed outside their own system. The buying and selling of players is part of the game, and right now the Effzeh are more a "selling, re-investing, and building" type than the "pay extra to fine-tune a strong roster" type."
Thus far, according to Jörg Schmadtke (I think I'm done putting titles with names of guys anyone following the club should already know. Cool?), there may be interest, but none of it has come in the form of "specific inquiries."
While the time for Wimmer to leave Köln may indeed come, we can be thankful for the extension he signed a year ago to keep him under Effzeh control into 2019 (nicely done, Jörg . . . I can call you "Jörg," right? It's not like you're reading this!), as well as his thinking of the fans while away for national team duty, wishing all the Jecken an enjoyable opening to the Karneval season from his Facebook page, and signing off with a "celebrate a little for me" and a "Kölle Alaaf!"
See? A Cologne-ish boy, through and through.
Latest posts by Randall Hauk (see all)