It also means I get to see mid-week nationally televised football featuring the NFL team of my heart: the Detroit Lions. Though, because I live on the west coast, the game will start even earlier than the usual too-early kickoff time of 10 a.m.
Historically, the problem was that being up and ready to take in a three-point-five hour sporting event by 9:30 in the morning was one of laziness. Simply, I like to sleep in.
Rather, that's how I remember it from my past life when I didn't have young children and "sleeping in" meant being in bed much later than the 8 a.m. that now seems so luxurious compared to many mornings.
Now it's more a barrier to me getting started with all the cooking that will happen Thursday. Should you be unaware of American Thanksgiving traditions, the centerpiece of the event is a big family meal requiring a lot of time in the kitchen. Ideally, you at least need to get some preparation done in the morning. I've yet to find a successful route by which to navigate watching the game while also preparing the big Thanksgiving meal.
At some point yesterday, I had a slight panic thinking that the 1. FC Köln match in Hamburg against FC St. Pauli was going to start at some point in the second half of the Lions game. That really ruined my mood for a minute.
With both of my teams hitting road bumps in November just as things seemed to be hitting a high point, a Thursday NFL win followed by a Friday away victory in Hamburg for the Effzeh, all sandwiched around a great Thanksgiving celebration with friends and family has the potential for making a great four-day weekend.
Naturally, it also has the potential for souring my mood twice in about 25 hours, maybe making me think more negatively about my total caloric intake on Thursday…ugh.
Then comes Tuesday and another match in Hamburg with the third-round DFB Pokal match against the Hamburger SV.
How completely convenient 1. FC Köln drew an away match at HSV the week following the scheduled away match at St. Pauli (which is in the same city as HSV, mom…because I think you sometimes read these posts), eh?
This would be one of those crazy happenstances (assuming no funny business from those in charge of the cup draw, of course) that would make people like me find a way to take a long weekend in Hamburg to see two matches in five days.
I feel certain a good number of people are doing just that.
I also feel we were all so sure this club was so safely on cruise control atop the league, that we spent far too much attention on the HSV tournament match, assuming points would continue to accumulate when taking on teams that had struggled as much early in the season as had VfL Bochum and FC Ingolastadt.
Without making excuses for the lack of execution the last few outings, both clubs had been on a fairly sincere upswing by the time 1. FC Köln arrived on their schedule. Looking at the "form table," both are among the top five performers the last five weeks.
And, of course, you can see that just above the pair of clubs who just delivered the Effzeh losses number one and two over the last two match days sits Friday's opponent.
Despite St. Pauli clearly being a quality opponent, is it possible Köln is simply underestimating them, looking forward to the opportunity to get to the quarterfinals of the DFB Pokal with a second-consecutive away victory against a struggling first-division side?
I hope not, because that would be a good way to lose a third match AND get bounced from the tournament.
I'm old enough and experienced enough with following losing teams to not allow such sporting events put my personal life into a gray cloud, but…let's just say that would be challenging for me.
In the wake of the romp over Union Berlin, nobody was suggesting that all the excitement about the prospect of taking down the HSV might be a distraction in any way, but, as Pepguhly says here, "the excuse for a loss in Pauli (will be that) we were looking past them at the Pokal match."
I can admit fully that when the match between first-place Köln and second-place Union ended 4:0 for our club, just a few days after HSV dropped an 0:2 at home to Mönchengladbach, I didn't even consider a loss to Pauli. I was looking at HSV as vulnerable.
But I'm not a professional athlete or coach. I can't believe such things are connected to consecutive losses, two goalless efforts, or what will happen Friday. Underestimating opposition is practically in the job description of a fan, but doesn't generally list among the characteristics of successful competitors.
Hopefully, none of us were assuming the entire season would pass without a few adverse spots. The first simply came much later than it usually does around here. The true measure of this team and its management was always going to be how they all circumnavigate the more-difficult obstacles to get back on the path to promotion.
Here's to hoping that route is found before everyone gets completely lost in Hamburg.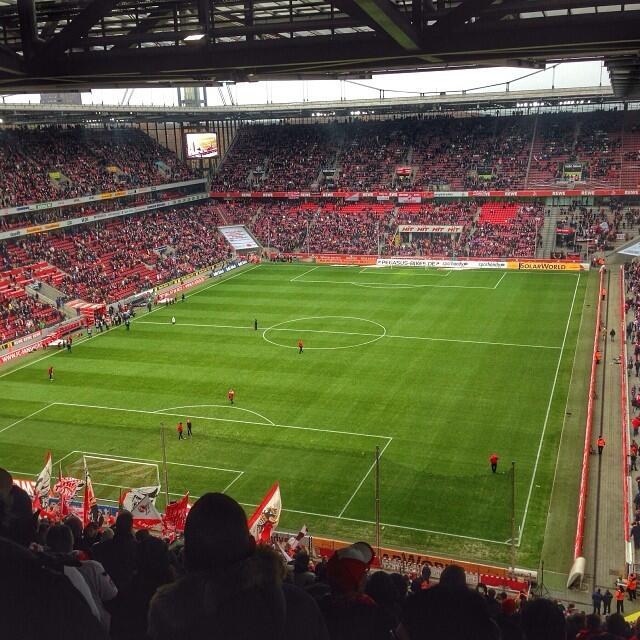 Can you ever really see too many shots from the stadium? Thanks for sharing andre080582
Latest posts by Randall Hauk (see all)