After many a false start (sorry for the American Football reference), the floppy-haired Brazilian who, for me, was among the most-recognizable and reliable members of 1. FC Köln in my recent return to Bundesliga following, is officially a member of a new team, thanks for a long-term transfer to Mallorca of La Liga (Spanish first division).
I'm reminded I still owe the world (the WHOLE world!) the story that delivered me into the hands of the EffZeh nation. I'm sure you're just dying to know.
For now, I'll summarize.
When I realized Bundesliga games were being televised on GolTV early in the 2010-11 season, I watched as much as I could, thanks to the wonder of the DVR. I figured it wouldn't be too much to watch the 1-3 games a week and just be a casual fan.
This completely is contrary to the nature of sports fans from my part of the world (Michigan). We don't really do the casual fan thing all that well, which is why the Detroit Lions are selling out meaningless preseason games after just one successful season following decades of misery.
As a casual fan attached to no team in general, I was quickly drawn to the play of a gangly-looking dude with stringy hair who seemed to be simply dominant in the air in defense of one of the first games I watched (after having seen no Bundesliga play since 1994). Having never played and, in fact, being largely ignorant of strategy and skill in fußball, it seemed notable to me that a central defender was catching my eye as much as he was.
Having later become an EffZeh fan, I considered him to be the ying to Lukas Podolski's yang. Poldi was popular and an offensive threat. Geromel moved about his business quietly and, obviously, posed much less a threat to opposing goals.
To me, Geromel was a supreme central defender. As I learned more about the game through just watching, I felt he was as solid a player you could want in that area. By the time Stale Solbakken was hired as the new coach before the 2011-12, I had already decided my heart belonged to the Billy Goats. Once Solbakken made Geromel the team captain, it made me feel as if my evaluation of his play was verified. Further, the idea he was considered a leadership-type guy appealed to me greatly.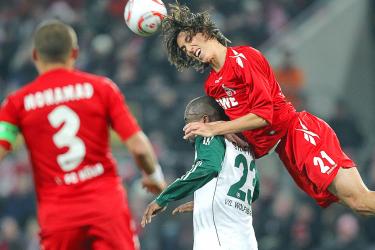 I'm a sucker for intelligent athletes foremost, but also hold guys with genuine leadership skills in high esteem.
Then, during my first season of really following FC Köln closely as a fan, Pedro seemed to be the personification of a team-wide confusion about Solbakken's system, as the team gave up goals in buckets.
"Buckets," of course, being relative. Still…
Then…
The team plummets in the standings.
Solbakken gets fired.
Podolski commits to transferring to Arsenal (though, he tried to deny anything was final, as fits his personality).
Players had some run-ins with the law.
And, finally, needing a home win against mighty Bayern in the final match of the season if only to earn a chance at climbing past Hertha BSC into the relegation play-off spot, the team disintegrated in the second half before the Jelly Donuts (if you have to ask, you won't get it!) scored late to make the point moot. After all of which, a good number of "fans" set off smoke bombs and ran onto the field, robbing the rest of us of the chance to see Prinz Poldi off with some remaining shreds of dignity and putting embarrassing images into web browsers across the world.
With reports of financial issues within the club surfacing, Köln seemed to want to put the entire team into a "rebuilding" mode, charging new coach Holgar Stanislawski to do whatever it is they hope he can do with as many inexpensive, young players as possible.
All of which was a long way of saying that Pedro Geromel became simply too expensive to keep on the team.
Oddly enough, Stani was very public about there no longer being a place in the squad for the long-time starter. I'm not sure how things work in international football, but in our sports leagues here, you generally don't put that sort of information out for all to hear if you are hoping to get top dollar in a trade.
Hence, it was no surprise to me to hear that the FC was not overwhelmed by the quality and number of offers received for Geromel, especially after a season in which his stock greatly dipped due to on-field performance. It got to a point where you had to wonder whether any sort of a transfer would happen at all (Hello? Michael Rensing? Still no team?).
As it is, we fans have to be a little disappointed we lose Geromel's services through a loan. I think we all had been hoping the FC would flip Geromel-transfer millions to a striker of decent-enough quality to solidify chances of being in the promotion battle back into Bundesliga this coming spring. While we  can be glad to have the salary off the books, which were reportedly not in good health this summer, losing the transfer dollars will hurt on the field.
Because we are all in agreement that Tese as the lone striker isn't looking promising, right?
While I held no realistic hopes that the FC would be unable to find a suitor for a transfer which would put Geromel back on the field for the Effzeh, it's still a slight moment of sadness for me to know the Geromel era for 1. FC Köln finally has it's end. I'm sure I will, much like with Podolski at Arsenal, check out his new team's highlights and hope he's doing well, especially since any rebuilding he can do to his value can only be a positive for the the team who retains his contract for the next few years. There may be some more money to come from this yet.
I shall go into the long weekend of no EffZeh football (they don't play until Monday), trying to remember only the good times so that my lasting image of a guy I once quite admired will not be this:
Latest posts by Randall Hauk (see all)