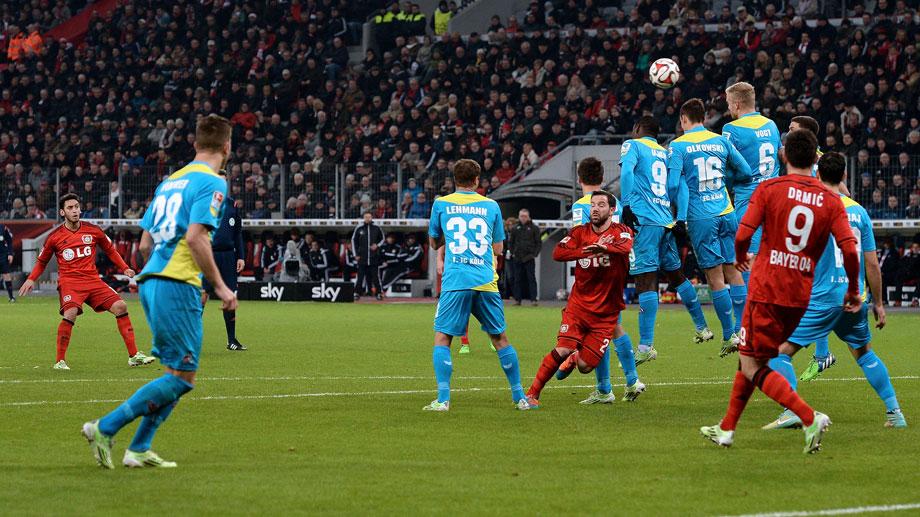 A few quick thoughts on Saturday's 1:5 loss in Leverkusen to Bayer Pharmaceutical:
Let me explain . . . No, there is too much. Let me sum up.
The 1. FC Köln got an early lead from the penalty spot, but it had been all Leverkusen early and was all Leverkusen after that, with the hosts scoring four times in the last half-hour after dominating chances and possession all match long en route to a 5:1 rout of their big-city neighbor.
The Effzeh offense looked largely hopeless and clueless, while Leverkusen took advantage of mistakes and a sizable advantage in talent-level and top-level experience. Peter Stöger's club was hoping to redeem itself after blowing a match last week to a lackluster Hertha BSC side, but was handed a fairly significant set-back both in the task of point-collection and probably at least a little in self-confidence.
Consecutive losses drops the Effzeh's point pace (15 points from 13 matches) at 1.15 per match , which is slightly behind the 1.18 it takes to get to the mythical safety total of 40, but with Werder Bremen looking like a new squad of late and VfB Stuttgart awaking from the dead in Huub Stevens' debut as Armin Veh's replacement, the margin for error feels a lot more narrow right now than it has felt all season for the Billy Goats.
Weather Report
Cold!
There is plenty of blame to go around for this one.
Timo Horn seemed to be a target of criticism, largely for not controlling well-struck shots, one of which put the ball directly in front of Karim Bellarabi for the equalizer. Someone, though, needs to be accountable for Bellarabi getting into that space so freely, though, which then became a theme of the run of four goals in the last half-an-hour to make the final a laugher. Fact is, you're not going to see a lot of moments from this match brought up by agents of anyone on defense as proof their client is worthy of big dollars. For all the reported interest in Jonas Hector, Kevin Wimmer, and Horn, this match will definitely have some suitors rethinking the figures they'd be willing to commit to acquiring some of those players.
Mergim Mavraj won Dominic Maroh's job when Maroh went out to a brief injury and simply never gave the job back. That might change with the senseless boot he put in Heung-Min Son's face that put Canhaloglu on the ball for a free kick almost dead center in front of Horn's goal just a few meters outside the penalty area, which led to Leverkusen's first goal.
Or, maybe that's "might have" changed, except that Maroh was largely anonymous in the match, his most notable moment coming when he blindly passed the ball back toward his own goal, which led, as it usually does, to a frightening turnover.
And, even while it continues to prove to be a pointless mode of attack, the primary path forward for Peter Stöger's offense stubbornly continues to be long passes over the top toward Anthony Ujah, who simply does not win the battle for those balls. Ujah has shown he can put the ball into the net, but the team needs to find a way to get the ball to him where he can do his work.
HOT!
No players, but certainly tempers toward referee Thorsten Kinhöfer over his not awarding a penalty when Bernd Leno barreled into Ujah's legs inside the area. Leno was already on a yellow due to his earlier challenge on Lehmann, and should have been leaving the match with a yellow-red for the challenge. Kinhöfer missed it and play continued.
Jörg Schmadtke said after the match that he believed the match was decided by that failed decision, but considering the lopsided amount of possession, Bayer's strength on set pieces, and the collapse of the defense's intestinal fortitude, I don't think it's a gimme that the Effzeh would have managed even a single point . . . yes, even had it been a two-goal lead with seventy-five minutes left an a man-advantage. THAT is how uneven the play was.
Man of the Match
Again, it cannot go to anyone on the pitch, which makes it easy to give it to the only clear stand-out performer for Köln: the travelling fans. The Effzeh fans have a reputation for great support both home and away, and even though many scoff at the notion that Leverkusen is a 'derby' rival, the visitor section easily put the home fans to shame when it came to being vocal. Full marks, as per usual, for the Effzeh faithful who went up the road to make their support heard all the way to here in Seattle.
Coming up next
Saturday brings another club currently contesting for a European spot when FC Augsburg comes to Müngersdorf for a visit. Köln has just five points from six home matches, while the FCA will arrive as winners of three-consecutive matches and four of their last five, with three of their four having been clean sheets.
Latest posts by Randall Hauk (see all)